Villa George with a heated swimming pool
Hlapa, Croatia
Gallery
Overview
4.88
(14)
6 guests
3 beds
3 bedrooms
Swimming pool
1200 m from sea
Wi-Fi
Villa George is a modern villa with a heated pool. It is located on the island of Krk, in the small picturesque village of Hlapa. The villa is suitable for six people, has a pool and a spacious terrace. Villa George is a spacious and bright villa equipped with modern an
d high quality appliances. It is suitable for everyone who wants to spend their vacation in quality accommodation and enjoy peaceful surroundings. The modern architectural perfection of the house conveys a feeling of exclusivity and privacy, although the house is designed as a semi-detached house. If you like to travel in spring or late autumn this villa is a good choice for you as it offers a heated pool for the warmer days. On a completely closed terrace you will be able to enjoy the tranquility of the area, cool in the pool, or simply soak the sun on one of the sun loungers next to the pool. Alfresco dining is also enabled thanks to the 70 m2 covered outdoor dining area and the kitchen, which is equipped with a ceramic hob, grill, sink, running water and dishwasher. There is also an outside toilet. The interiors in Villa George are spread over two floors, the ground floor and the first floor. On the ground floor, next to the staircase, there is a spacious open space area with a kitchen, dining room, living room and guest toilet. The kitchen is spacious and equipped with modern, high-quality appliances. The kitchen is equipped with an induction hob with integrated extractor hood, a spacious fridge, freezer, oven, coffee maker, kettle, dishwasher and all other utensils needed to prepare delicious meals. Next to the kitchen there is a large dining table for six people. The living room is furnished with a big screen TV with satellite channels, a coffee table, air conditioning and with a large sofa. From the living room you can access the terrace and the pool. A beautiful, atmospherically lit staircase takes you to the first floor where there are three bedrooms and two bathrooms. The bedrooms have a double bed (180 x 200 cm), TV and an air conditioning. One bedroom has a private bathroom with shower, toilet and a hairdryer. The second bathroom is located in the hallway and it has a walk-in shower, toilet, hairdryer and a washing machine. All bedrooms are prepared with bed linen and towels. Villa George is located in the small and laid-back village of Hlapa on the island of Krk. Beaches and towns are 1200 meters away from the villa. Close enough to reach easily but far enough to enjoy in peace. In addition to swimming in the crystal-clear sea, you can also go hiking on well-developed vineyard paths in the area. Within a radius of 15 km from the villa, you will find the beautiful towns of Malinska, Vrbnik and Krk. Be sure to try the famous Vrbnička žlahtina and traditionally prepared dishes from these areas.
Policies
Pets not allowed
Smoking not allowed
Events allowed upon request
Rental policy
Rental price includes:
Accommodation, air conditioning, bathroom towels, bed linens, cleaning on departure, electricity, garden maintenance, heating, internet access, parking, pool maintenance, registration fee, tourist tax, use of baby bed, use of baby chair, use of grill, use of washing machine, water.
Advance payment of 30%: By booking.
Remaining payment of 70%: Payable on arrival in cash (€).
Security deposit: 300,00 €
Prices
| From | To | Daily price | Weekly price | Min. Stay |
| --- | --- | --- | --- | --- |
| 01 Jan 2024 | 04 Jan 2024 | €350 | €2,450 | 7 nights |
| 05 Jan 2024 | 03 May 2024 | €130 | €910 | 7 nights |
| 04 May 2024 | 17 May 2024 | €150 | €1,050 | 7 nights |
| 18 May 2024 | 21 Jun 2024 | €250 | €1,750 | 7 nights |
| 22 Jun 2024 | 05 Jul 2024 | €280 | €1,960 | 7 nights |
| 06 Jul 2024 | 16 Aug 2024 | €380 | €2,660 | 7 nights |
| 17 Aug 2024 | 23 Aug 2024 | €350 | €2,450 | 7 nights |
| 24 Aug 2024 | 30 Aug 2024 | €250 | €1,750 | 7 nights |
| 31 Aug 2024 | 06 Sep 2024 | €180 | €1,260 | 7 nights |
| 07 Sep 2024 | 13 Sep 2024 | €160 | €1,120 | 7 nights |
| 14 Sep 2024 | 20 Dec 2024 | €130 | €910 | 7 nights |
| 21 Dec 2024 | 29 Dec 2024 | €350 | €2,450 | 7 nights |
Reviews
4.88
(14)
Hannes Christen
Major-league holiday!
Villa George with a heated swimming pool
30-07-2022
Daniela M.
Alles sauber und neuwertig.Viel Platz. Etwas außerhalb man braucht das Auto.Ruhige Umgebung .
Villa George with a heated swimming pool
03-09-2022
Yusuf T.
Alles Super gelaufen
Villa George with a heated swimming pool
09-09-2022
Alexander Walter
Admirable and clean accommodation!
Villa George with a heated swimming pool
29-08-2022
Tina Buttenberg
Der Aufenthalt hat uns sehr gut gefallen.
Villa George with a heated swimming pool
12-09-2022
Tania Pfeiffer
The best Holiday home we ever have had! A great week with the family.
Villa George with a heated swimming pool
20-09-2022
Kevin Masold
Wunderschöne und saubere Unterkunft mit schönem Pool.
Villa George with a heated swimming pool
15-07-2023
Julia H.
Die Villa ist hell, gut ausgestattet und einfach super. Es hat uns an nichts gefehlt. Die meiste Zeit haben wir draußen verbracht. Die Außenküche ist einfach genial, dort gab es einfach alles, sogar einen großen Getränkekühlschrank und Eiswürfelzubereiter!! Wir haben absolut nichts auszusetzen, unser Urlaub war perfekt.
Villa George with a heated swimming pool
01-08-2023
Helen Calthrop
We dealt with Gregor not Jaun but he was very helpful despite our lack of language skills. We needed cash in Euros for the security deposit on arrival and Gregor kindly came back at 7am to return the full deposit so we could catch an early flight. The house was lovely and the outside kitchen was excellent. The area is very peaceful and we spent most our time by the pool which was perfect for us. Everything was very clean and new. My only request would be for more towels and better quality bedding. It would have also been useful to have more information about the property, small things like where to put the bins, how to turn on the hot water, etc the house is obviously very new and I am sure these things will be sorted. Overall a wonderful stay, thank you
Villa George with a heated swimming pool
05-08-2023
Erika Absolonová
Opravu skvělé ubytování, fotky odpovídají skutečnosti, moc jsme si pobyt užili
Villa George with a heated swimming pool
19-08-2023
Evelyn K.
Wir waren mit zwei Familien mit Kleinkindern in dem Ferienhaus. Die Ausstattung ist wirklich top! Die Küche und Outdoorküche haben wirklich alles zu bieten, was man so braucht (sogsr ein Eiswürfelfach, welches in regelmäßigem Abstand neue Eiswürfel produziert). Die Schlafzimmer sind alle klimatisiert, alles ist sehr sauber. Es gibt auch eine Abstellkammer mit Staubsauger, Wischmopp und Eimer, wenn man mal selbst kurz sauber machen möchte. Zum Strand fährt man ca. 5 Minuten mit dem Auto, dort gibt es auch eine Bäckerei und einen kleinen Supermarkt. Alles in allem waren wir super zufrieden.
Villa George with a heated swimming pool
08-09-2023
Stefan
Das Haus ist sehr modern. Die Kochmöglichkeiten sind unschlagbar. Die Unterkunft und der Pool waren sauber. Der Pool war wie angegeben beheizt. Es gibt eine Eiswürfel-Maschine im Außenbereich. Es gibt ein Bügeleisen & -brett.
Villa George with a heated swimming pool
04-10-2023
Laura W.
Die Villa ist top ausgestattet & es fehlt nichts! Allerdings muss man bedenken, dass dies eine Doppelhaushälfte ist & man eventuell komische Nachbarn hat. Pool ist anscheinend beheizt, die Temperatur ist jedoch nicht selbst steuerbar.
Villa George with a heated swimming pool
23-09-2023
Waldemar Frühauf
Das Haus ist modern eingerichtet und sauber. Die Kaffeemaschine war defekt. Als wir dies dem Vermieter mitteilten tauschte er diese gegen ein gleiches defektes Modell aus. Am Abreisetag machten wir den Vermieter darauf aufmerksam das die Toilettenspülung im Erdgeschoss laute Geräusche macht. Desweiteren gaben wir eine Rückmeldung das die Aussendusche am Pool nicht funktionstüchtig sei und das der Pool augenscheinlich nicht gereinigt wurde. Im Pool befanden sich Schwimmkerzen und kaputte Spielsachen. Dies wurde vom Vermieter leider ins lächerliche gezogen.
Villa George with a heated swimming pool
28-10-2023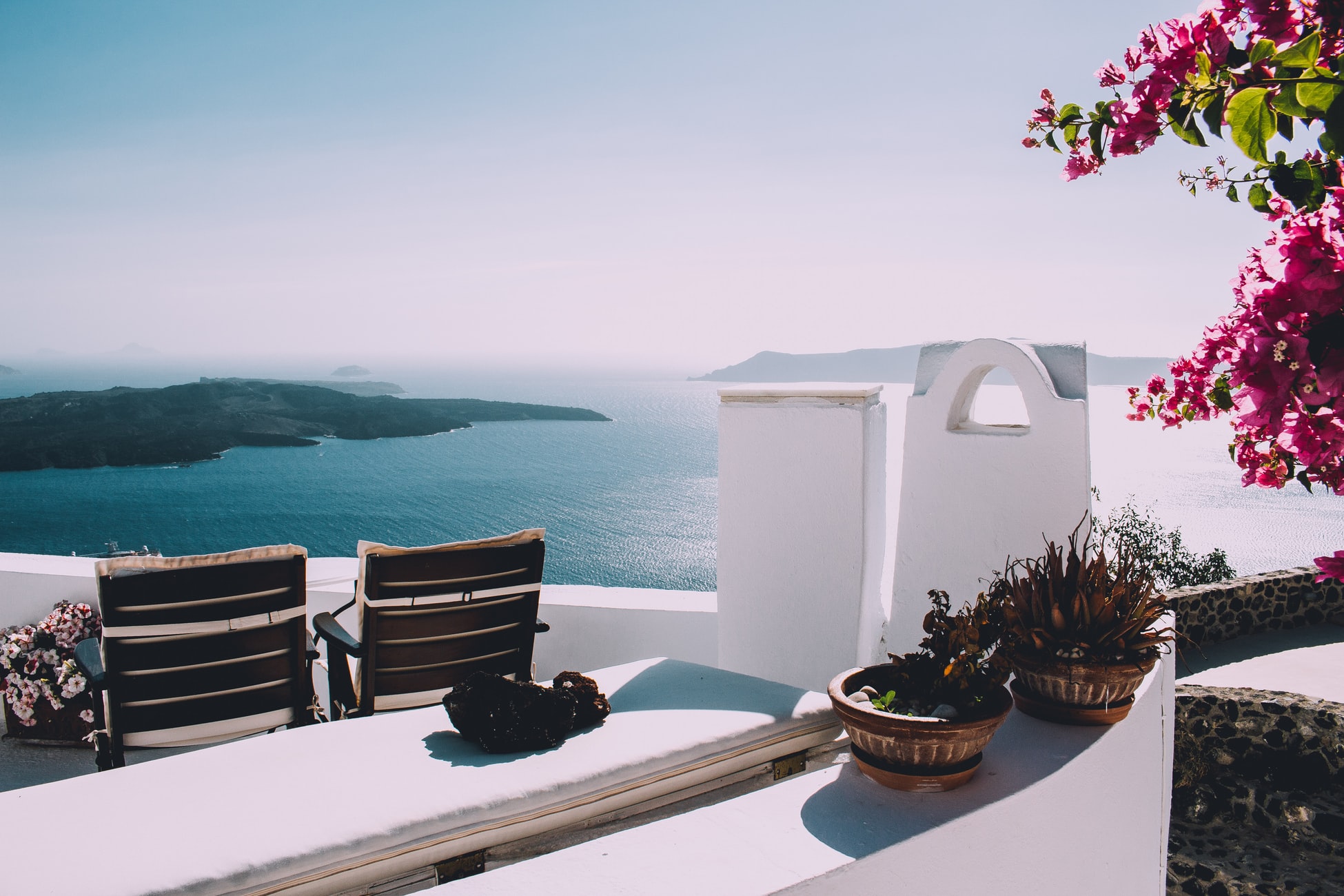 [{"day":"2023-12-11"},{"day":"2023-12-12"},{"day":"2023-12-13"},{"day":"2023-12-14"},{"day":"2023-12-15"},{"day":"2023-12-17"},{"day":"2023-12-18"},{"day":"2023-12-19"},{"day":"2023-12-20"},{"day":"2023-12-21"},{"day":"2023-12-22"},{"day":"2023-12-24"},{"day":"2023-12-25"},{"day":"2023-12-26"},{"day":"2023-12-27"},{"day":"2023-12-28"},{"day":"2023-12-29"},{"day":"2023-12-31"},{"day":"2024-01-01"},{"day":"2024-01-02"},{"day":"2024-01-03"},{"day":"2024-01-04"},{"day":"2024-01-05"},{"day":"2024-01-07"},{"day":"2024-01-08"},{"day":"2024-01-09"},{"day":"2024-01-10"},{"day":"2024-01-11"},{"day":"2024-01-12"},{"day":"2024-01-14"},{"day":"2024-01-15"},{"day":"2024-01-16"},{"day":"2024-01-17"},{"day":"2024-01-18"},{"day":"2024-01-19"},{"day":"2024-01-21"},{"day":"2024-01-22"},{"day":"2024-01-23"},{"day":"2024-01-24"},{"day":"2024-01-25"},{"day":"2024-01-26"},{"day":"2024-01-28"},{"day":"2024-01-29"},{"day":"2024-01-30"},{"day":"2024-01-31"},{"day":"2024-02-01"},{"day":"2024-02-02"},{"day":"2024-02-04"},{"day":"2024-02-05"},{"day":"2024-02-06"},{"day":"2024-02-07"},{"day":"2024-02-08"},{"day":"2024-02-09"},{"day":"2024-02-11"},{"day":"2024-02-12"},{"day":"2024-02-13"},{"day":"2024-02-14"},{"day":"2024-02-15"},{"day":"2024-02-16"},{"day":"2024-02-18"},{"day":"2024-02-19"},{"day":"2024-02-20"},{"day":"2024-02-21"},{"day":"2024-02-22"},{"day":"2024-02-23"},{"day":"2024-02-25"},{"day":"2024-02-26"},{"day":"2024-02-27"},{"day":"2024-02-28"},{"day":"2024-02-29"},{"day":"2024-03-01"},{"day":"2024-03-03"},{"day":"2024-03-04"},{"day":"2024-03-05"},{"day":"2024-03-06"},{"day":"2024-03-07"},{"day":"2024-03-08"},{"day":"2024-03-10"},{"day":"2024-03-11"},{"day":"2024-03-12"},{"day":"2024-03-13"},{"day":"2024-03-14"},{"day":"2024-03-15"},{"day":"2024-03-17"},{"day":"2024-03-18"},{"day":"2024-03-19"},{"day":"2024-03-20"},{"day":"2024-03-21"},{"day":"2024-03-22"},{"day":"2024-03-24"},{"day":"2024-03-25"},{"day":"2024-03-26"},{"day":"2024-03-27"},{"day":"2024-03-28"},{"day":"2024-03-29"},{"day":"2024-03-31"},{"day":"2024-04-01"},{"day":"2024-04-02"},{"day":"2024-04-03"},{"day":"2024-04-04"},{"day":"2024-04-05"},{"day":"2024-04-07"},{"day":"2024-04-08"},{"day":"2024-04-09"},{"day":"2024-04-10"},{"day":"2024-04-11"},{"day":"2024-04-12"},{"day":"2024-04-14"},{"day":"2024-04-15"},{"day":"2024-04-16"},{"day":"2024-04-17"},{"day":"2024-04-18"},{"day":"2024-04-19"},{"day":"2024-04-21"},{"day":"2024-04-22"},{"day":"2024-04-23"},{"day":"2024-04-24"},{"day":"2024-04-25"},{"day":"2024-04-26"},{"day":"2024-04-28"},{"day":"2024-04-29"},{"day":"2024-04-30"},{"day":"2024-05-01"},{"day":"2024-05-02"},{"day":"2024-05-03"},{"day":"2024-05-05"},{"day":"2024-05-06"},{"day":"2024-05-07"},{"day":"2024-05-08"},{"day":"2024-05-09"},{"day":"2024-05-10"},{"day":"2024-05-12"},{"day":"2024-05-13"},{"day":"2024-05-14"},{"day":"2024-05-15"},{"day":"2024-05-16"},{"day":"2024-05-17"},{"day":"2024-05-19"},{"day":"2024-05-20"},{"day":"2024-05-21"},{"day":"2024-05-22"},{"day":"2024-05-23"},{"day":"2024-05-24"},{"day":"2024-05-26"},{"day":"2024-05-27"},{"day":"2024-05-28"},{"day":"2024-05-29"},{"day":"2024-05-30"},{"day":"2024-05-31"},{"day":"2024-06-02"},{"day":"2024-06-03"},{"day":"2024-06-04"},{"day":"2024-06-05"},{"day":"2024-06-06"},{"day":"2024-06-07"},{"day":"2024-06-09"},{"day":"2024-06-10"},{"day":"2024-06-11"},{"day":"2024-06-12"},{"day":"2024-06-13"},{"day":"2024-06-14"},{"day":"2024-06-16"},{"day":"2024-06-17"},{"day":"2024-06-18"},{"day":"2024-06-19"},{"day":"2024-06-20"},{"day":"2024-06-21"},{"day":"2024-06-23"},{"day":"2024-06-24"},{"day":"2024-06-25"},{"day":"2024-06-26"},{"day":"2024-06-27"},{"day":"2024-06-28"},{"day":"2024-06-30"},{"day":"2024-07-01"},{"day":"2024-07-02"},{"day":"2024-07-03"},{"day":"2024-07-04"},{"day":"2024-07-05"},{"day":"2024-07-07"},{"day":"2024-07-08"},{"day":"2024-07-09"},{"day":"2024-07-10"},{"day":"2024-07-11"},{"day":"2024-07-12"},{"day":"2024-07-14"},{"day":"2024-07-15"},{"day":"2024-07-16"},{"day":"2024-07-17"},{"day":"2024-07-18"},{"day":"2024-07-19"},{"day":"2024-07-21"},{"day":"2024-07-22"},{"day":"2024-07-23"},{"day":"2024-07-24"},{"day":"2024-07-25"},{"day":"2024-07-26"},{"day":"2024-07-28"},{"day":"2024-07-29"},{"day":"2024-07-30"},{"day":"2024-07-31"},{"day":"2024-08-01"},{"day":"2024-08-02"},{"day":"2024-08-04"},{"day":"2024-08-05"},{"day":"2024-08-06"},{"day":"2024-08-07"},{"day":"2024-08-08"},{"day":"2024-08-09"},{"day":"2024-08-11"},{"day":"2024-08-12"},{"day":"2024-08-13"},{"day":"2024-08-14"},{"day":"2024-08-15"},{"day":"2024-08-16"},{"day":"2024-08-18"},{"day":"2024-08-19"},{"day":"2024-08-20"},{"day":"2024-08-21"},{"day":"2024-08-22"},{"day":"2024-08-23"},{"day":"2024-08-25"},{"day":"2024-08-26"},{"day":"2024-08-27"},{"day":"2024-08-28"},{"day":"2024-08-29"},{"day":"2024-08-30"},{"day":"2024-09-01"},{"day":"2024-09-02"},{"day":"2024-09-03"},{"day":"2024-09-04"},{"day":"2024-09-05"},{"day":"2024-09-06"},{"day":"2024-09-08"},{"day":"2024-09-09"},{"day":"2024-09-10"},{"day":"2024-09-11"},{"day":"2024-09-12"},{"day":"2024-09-13"},{"day":"2024-09-15"},{"day":"2024-09-16"},{"day":"2024-09-17"},{"day":"2024-09-18"},{"day":"2024-09-19"},{"day":"2024-09-20"},{"day":"2024-09-22"},{"day":"2024-09-23"},{"day":"2024-09-24"},{"day":"2024-09-25"},{"day":"2024-09-26"},{"day":"2024-09-27"},{"day":"2024-09-29"},{"day":"2024-09-30"},{"day":"2024-10-01"},{"day":"2024-10-02"},{"day":"2024-10-03"},{"day":"2024-10-04"},{"day":"2024-10-06"},{"day":"2024-10-07"},{"day":"2024-10-08"},{"day":"2024-10-09"},{"day":"2024-10-10"},{"day":"2024-10-11"},{"day":"2024-10-13"},{"day":"2024-10-14"},{"day":"2024-10-15"},{"day":"2024-10-16"},{"day":"2024-10-17"},{"day":"2024-10-18"},{"day":"2024-10-20"},{"day":"2024-10-21"},{"day":"2024-10-22"},{"day":"2024-10-23"},{"day":"2024-10-24"},{"day":"2024-10-25"},{"day":"2024-10-27"},{"day":"2024-10-28"},{"day":"2024-10-29"},{"day":"2024-10-30"},{"day":"2024-10-31"},{"day":"2024-11-01"},{"day":"2024-11-03"},{"day":"2024-11-04"},{"day":"2024-11-05"},{"day":"2024-11-06"},{"day":"2024-11-07"},{"day":"2024-11-08"},{"day":"2024-11-10"},{"day":"2024-11-11"},{"day":"2024-11-12"},{"day":"2024-11-13"},{"day":"2024-11-14"},{"day":"2024-11-15"},{"day":"2024-11-17"},{"day":"2024-11-18"},{"day":"2024-11-19"},{"day":"2024-11-20"},{"day":"2024-11-21"},{"day":"2024-11-22"},{"day":"2024-11-24"},{"day":"2024-11-25"},{"day":"2024-11-26"},{"day":"2024-11-27"},{"day":"2024-11-28"},{"day":"2024-11-29"},{"day":"2024-12-01"},{"day":"2024-12-02"},{"day":"2024-12-03"},{"day":"2024-12-04"},{"day":"2024-12-05"},{"day":"2024-12-06"},{"day":"2024-12-08"},{"day":"2024-12-09"},{"day":"2024-12-10"},{"day":"2024-12-11"},{"day":"2024-12-12"},{"day":"2024-12-13"},{"day":"2024-12-15"},{"day":"2024-12-16"},{"day":"2024-12-17"},{"day":"2024-12-18"},{"day":"2024-12-19"},{"day":"2024-12-20"},{"day":"2024-12-22"},{"day":"2024-12-23"},{"day":"2024-12-24"},{"day":"2024-12-25"},{"day":"2024-12-26"},{"day":"2024-12-27"},{"day":"2024-12-29"}]
[{"day":"2023-12-11"},{"day":"2023-12-12"},{"day":"2023-12-13"},{"day":"2023-12-14"},{"day":"2023-12-15"},{"day":"2023-12-17"},{"day":"2023-12-18"},{"day":"2023-12-19"},{"day":"2023-12-20"},{"day":"2023-12-21"},{"day":"2023-12-22"},{"day":"2023-12-24"},{"day":"2023-12-25"},{"day":"2023-12-26"},{"day":"2023-12-27"},{"day":"2023-12-28"},{"day":"2023-12-29"},{"day":"2023-12-31"},{"day":"2024-01-01"},{"day":"2024-01-02"},{"day":"2024-01-03"},{"day":"2024-01-04"},{"day":"2024-01-05"},{"day":"2024-01-07"},{"day":"2024-01-08"},{"day":"2024-01-09"},{"day":"2024-01-10"},{"day":"2024-01-11"},{"day":"2024-01-12"},{"day":"2024-01-14"},{"day":"2024-01-15"},{"day":"2024-01-16"},{"day":"2024-01-17"},{"day":"2024-01-18"},{"day":"2024-01-19"},{"day":"2024-01-21"},{"day":"2024-01-22"},{"day":"2024-01-23"},{"day":"2024-01-24"},{"day":"2024-01-25"},{"day":"2024-01-26"},{"day":"2024-01-28"},{"day":"2024-01-29"},{"day":"2024-01-30"},{"day":"2024-01-31"},{"day":"2024-02-01"},{"day":"2024-02-02"},{"day":"2024-02-04"},{"day":"2024-02-05"},{"day":"2024-02-06"},{"day":"2024-02-07"},{"day":"2024-02-08"},{"day":"2024-02-09"},{"day":"2024-02-11"},{"day":"2024-02-12"},{"day":"2024-02-13"},{"day":"2024-02-14"},{"day":"2024-02-15"},{"day":"2024-02-16"},{"day":"2024-02-18"},{"day":"2024-02-19"},{"day":"2024-02-20"},{"day":"2024-02-21"},{"day":"2024-02-22"},{"day":"2024-02-23"},{"day":"2024-02-25"},{"day":"2024-02-26"},{"day":"2024-02-27"},{"day":"2024-02-28"},{"day":"2024-02-29"},{"day":"2024-03-01"},{"day":"2024-03-03"},{"day":"2024-03-04"},{"day":"2024-03-05"},{"day":"2024-03-06"},{"day":"2024-03-07"},{"day":"2024-03-08"},{"day":"2024-03-10"},{"day":"2024-03-11"},{"day":"2024-03-12"},{"day":"2024-03-13"},{"day":"2024-03-14"},{"day":"2024-03-15"},{"day":"2024-03-17"},{"day":"2024-03-18"},{"day":"2024-03-19"},{"day":"2024-03-20"},{"day":"2024-03-21"},{"day":"2024-03-22"},{"day":"2024-03-24"},{"day":"2024-03-25"},{"day":"2024-03-26"},{"day":"2024-03-27"},{"day":"2024-03-28"},{"day":"2024-03-29"},{"day":"2024-03-31"},{"day":"2024-04-01"},{"day":"2024-04-02"},{"day":"2024-04-03"},{"day":"2024-04-04"},{"day":"2024-04-05"},{"day":"2024-04-07"},{"day":"2024-04-08"},{"day":"2024-04-09"},{"day":"2024-04-10"},{"day":"2024-04-11"},{"day":"2024-04-12"},{"day":"2024-04-14"},{"day":"2024-04-15"},{"day":"2024-04-16"},{"day":"2024-04-17"},{"day":"2024-04-18"},{"day":"2024-04-19"},{"day":"2024-04-21"},{"day":"2024-04-22"},{"day":"2024-04-23"},{"day":"2024-04-24"},{"day":"2024-04-25"},{"day":"2024-04-26"},{"day":"2024-04-28"},{"day":"2024-04-29"},{"day":"2024-04-30"},{"day":"2024-05-01"},{"day":"2024-05-02"},{"day":"2024-05-03"},{"day":"2024-05-05"},{"day":"2024-05-06"},{"day":"2024-05-07"},{"day":"2024-05-08"},{"day":"2024-05-09"},{"day":"2024-05-10"},{"day":"2024-05-12"},{"day":"2024-05-13"},{"day":"2024-05-14"},{"day":"2024-05-15"},{"day":"2024-05-16"},{"day":"2024-05-17"},{"day":"2024-05-19"},{"day":"2024-05-20"},{"day":"2024-05-21"},{"day":"2024-05-22"},{"day":"2024-05-23"},{"day":"2024-05-24"},{"day":"2024-05-26"},{"day":"2024-05-27"},{"day":"2024-05-28"},{"day":"2024-05-29"},{"day":"2024-05-30"},{"day":"2024-05-31"},{"day":"2024-06-02"},{"day":"2024-06-03"},{"day":"2024-06-04"},{"day":"2024-06-05"},{"day":"2024-06-06"},{"day":"2024-06-07"},{"day":"2024-06-09"},{"day":"2024-06-10"},{"day":"2024-06-11"},{"day":"2024-06-12"},{"day":"2024-06-13"},{"day":"2024-06-14"},{"day":"2024-06-16"},{"day":"2024-06-17"},{"day":"2024-06-18"},{"day":"2024-06-19"},{"day":"2024-06-20"},{"day":"2024-06-21"},{"day":"2024-06-23"},{"day":"2024-06-24"},{"day":"2024-06-25"},{"day":"2024-06-26"},{"day":"2024-06-27"},{"day":"2024-06-28"},{"day":"2024-06-30"},{"day":"2024-07-01"},{"day":"2024-07-02"},{"day":"2024-07-03"},{"day":"2024-07-04"},{"day":"2024-07-05"},{"day":"2024-07-07"},{"day":"2024-07-08"},{"day":"2024-07-09"},{"day":"2024-07-10"},{"day":"2024-07-11"},{"day":"2024-07-12"},{"day":"2024-07-14"},{"day":"2024-07-15"},{"day":"2024-07-16"},{"day":"2024-07-17"},{"day":"2024-07-18"},{"day":"2024-07-19"},{"day":"2024-07-21"},{"day":"2024-07-22"},{"day":"2024-07-23"},{"day":"2024-07-24"},{"day":"2024-07-25"},{"day":"2024-07-26"},{"day":"2024-07-28"},{"day":"2024-07-29"},{"day":"2024-07-30"},{"day":"2024-07-31"},{"day":"2024-08-01"},{"day":"2024-08-02"},{"day":"2024-08-04"},{"day":"2024-08-05"},{"day":"2024-08-06"},{"day":"2024-08-07"},{"day":"2024-08-08"},{"day":"2024-08-09"},{"day":"2024-08-11"},{"day":"2024-08-12"},{"day":"2024-08-13"},{"day":"2024-08-14"},{"day":"2024-08-15"},{"day":"2024-08-16"},{"day":"2024-08-18"},{"day":"2024-08-19"},{"day":"2024-08-20"},{"day":"2024-08-21"},{"day":"2024-08-22"},{"day":"2024-08-23"},{"day":"2024-08-25"},{"day":"2024-08-26"},{"day":"2024-08-27"},{"day":"2024-08-28"},{"day":"2024-08-29"},{"day":"2024-08-30"},{"day":"2024-09-01"},{"day":"2024-09-02"},{"day":"2024-09-03"},{"day":"2024-09-04"},{"day":"2024-09-05"},{"day":"2024-09-06"},{"day":"2024-09-08"},{"day":"2024-09-09"},{"day":"2024-09-10"},{"day":"2024-09-11"},{"day":"2024-09-12"},{"day":"2024-09-13"},{"day":"2024-09-15"},{"day":"2024-09-16"},{"day":"2024-09-17"},{"day":"2024-09-18"},{"day":"2024-09-19"},{"day":"2024-09-20"},{"day":"2024-09-22"},{"day":"2024-09-23"},{"day":"2024-09-24"},{"day":"2024-09-25"},{"day":"2024-09-26"},{"day":"2024-09-27"},{"day":"2024-09-29"},{"day":"2024-09-30"},{"day":"2024-10-01"},{"day":"2024-10-02"},{"day":"2024-10-03"},{"day":"2024-10-04"},{"day":"2024-10-06"},{"day":"2024-10-07"},{"day":"2024-10-08"},{"day":"2024-10-09"},{"day":"2024-10-10"},{"day":"2024-10-11"},{"day":"2024-10-13"},{"day":"2024-10-14"},{"day":"2024-10-15"},{"day":"2024-10-16"},{"day":"2024-10-17"},{"day":"2024-10-18"},{"day":"2024-10-20"},{"day":"2024-10-21"},{"day":"2024-10-22"},{"day":"2024-10-23"},{"day":"2024-10-24"},{"day":"2024-10-25"},{"day":"2024-10-27"},{"day":"2024-10-28"},{"day":"2024-10-29"},{"day":"2024-10-30"},{"day":"2024-10-31"},{"day":"2024-11-01"},{"day":"2024-11-03"},{"day":"2024-11-04"},{"day":"2024-11-05"},{"day":"2024-11-06"},{"day":"2024-11-07"},{"day":"2024-11-08"},{"day":"2024-11-10"},{"day":"2024-11-11"},{"day":"2024-11-12"},{"day":"2024-11-13"},{"day":"2024-11-14"},{"day":"2024-11-15"},{"day":"2024-11-17"},{"day":"2024-11-18"},{"day":"2024-11-19"},{"day":"2024-11-20"},{"day":"2024-11-21"},{"day":"2024-11-22"},{"day":"2024-11-24"},{"day":"2024-11-25"},{"day":"2024-11-26"},{"day":"2024-11-27"},{"day":"2024-11-28"},{"day":"2024-11-29"},{"day":"2024-12-01"},{"day":"2024-12-02"},{"day":"2024-12-03"},{"day":"2024-12-04"},{"day":"2024-12-05"},{"day":"2024-12-06"},{"day":"2024-12-08"},{"day":"2024-12-09"},{"day":"2024-12-10"},{"day":"2024-12-11"},{"day":"2024-12-12"},{"day":"2024-12-13"},{"day":"2024-12-15"},{"day":"2024-12-16"},{"day":"2024-12-17"},{"day":"2024-12-18"},{"day":"2024-12-19"},{"day":"2024-12-20"},{"day":"2024-12-22"},{"day":"2024-12-23"},{"day":"2024-12-24"},{"day":"2024-12-25"},{"day":"2024-12-26"},{"day":"2024-12-27"},{"day":"2024-12-29"}]